دموع طفلين من واقع المسلمين في الفلبين



من الخطوات الجميلة للجزيرة افتتاحها القناة الإخبارية الانجليزية....وفعلاً بقيت فترة أتابعها و أحيانا أبقى أتابع منها و لكن ليس كثيراً...متابعتي صارت قليلة و لم أعد أقضي وقت كبير أمام التلفاز.

لكن خطوتها اللاحقة كانت أجمل....قناة الجزيرة الوثائقية...القناة ممتازة بدون كلام. أتابعها و معجبة بها رغم أني لا اقضي وقت كبير ولكن أحاول أن أتابع و أرصد وأرى ما المعروض فيها وأتابع إذا كان البرنامج شيق ومثير.
كما أن بعض صديقاتي يخبرنني إذا كان فيه برنامج يستحق انتظاره و متابعته... صديقتي العزيزة رنووووووونة أخبرتني بحماس شديد عن برنامج اسمه (دموع طفلين من واقع المسلمين في الفلبين) ، وانتقلت عدوى الحماس لي لأترقب البرنامج و أتابعه... وفعلاً تابعته... فعلاً قصة مؤثرة جدا لطفلين اضطرتهما الحياة أن يتركوا أهلهم في جزيرة مينداناو لينتقلوا للعيش مع خالتهم و العمل وهم لا يزالون بتلك السن الصغيرة ... تضايقت من تعامل بعض الناس معهم كونهم أطفال مسلمين ، كما أزعجني موقف خالتهم التي تعاملت معهم بمادية بحتة ...أقدر أنهم فقراء و حالهم سيء و لكنهما مجرد طفلين فهل يعقل أن تأخذ منهم نقود للمعيشة معها و تكلفهم بأعمال إضافية كإحضار الماء أو الطبخ ...مسكين نور الدين... كان يبدو مرهق جدا وهو يحمل الماء...هذا بخلاف معاناة الشديدة في العمل وبيع الأكياس للمتسوقين بالسوق بالإضافة إلى انه ليس الوحيد فهناك ما يقرب 70 طفل و طفله مثله و بنفس العمل تقريباً.

أمر أخر مهم ...قضية جزيرة مينداناو التي لا أعرفها بصراحة و لا أظن أني سمعت بحكايتها ، يعني القضية تكاد تكون سياسية أكثر من كونها دينية ، جماعة تسكن جزيرة و أتى قوم آخرون "أياً كان دينهم" ليسكنوا معهم... ثم قام هؤلاء الجدد بالتعدي على السكان الأوائل ، فطبيعي أن يرد السكان على الاعتداء و من حقهم الدفاع عن أنفسهم ، هذا يسمى دفاع عن النفس والعرض والمال ، المشكلة أن القصة تحورت بالخارج والسبب للأسف جماعة من المسلمين شذت عن طريق الحق المشروع لتكون الجماعة المتطرفة لأبو سياف و التي شوهت أصحاب الحق ومنحت المعتدين الفرصة للترويج لما يرغبون ، وزادت من عذابات المعذبين.
نور الدين و أخته الجميلة ماريمار عانوا من العنصرية ضدهم كأطفال مسلمين و خاصة من الجزيرة ...يسمونهم أبناء أبو سياف أو أبو سياف و حتى نور الدين تعرض للضرب الشديد من أولاد مسيحيين أرادوا أخذ ماله بالسوق ، ما شدني انه لم يخبر خالته عن ما حدث له عندما لم يستطع النهوض صباحا ... ولا ألومه ...فهل سوف تهتم به؟!! أشك بهذا! لكني رأيت سعادته انه حافظ على المال رغم الآلام التي تعرض لها من الضرب، وكان يقول بكل فخر أنهم ضربوه و لكنهم لم يأخذوا ماله.
ثم معاناتهم عندما عرفوا بمرض أمهم و تكلفة السفر بالسفينة إلى الجزيرة لرؤيتها ، بكى نور الدين ولكنه مع أخته كابدوا لتجميع المال للسفر للجزيرة...وفعلاً عادوا إلى الجزيرة.
نور الدين طفل رقيق حنون و يحب والدته جدا و ظل يبكي على صدرها و نام أيضا بجوارها. ثم اضطرارهم للعودة إلى العمل رغم رغبتهم بالبقاء بجوار أمهم.
وعادوا للعمل رغم البكاء الطويل و تعلقهم بأمهم و رغبتهم البقاء بالجزيرة.

من النقاط الايجابية التي لاحظتها وجود معتدلين بين الديانتان و عمل لقاءات بينهم و مناقشة المخاوف و كل شيء بكل ود و احترام ، فالأولاد والبنات يتقابلون و يطرحون كل ما يرغبون قوله في جو ودي لطيف باسم. وهذا فعلا يساعد في توضيح كل النقاط المشوهة أو الضبابية بداخل كل شخص عن الأخر.

أخي كانت لديه نقطة أخرى ولكن سلبية...فهو يقول أن بعض المسلمين هناك في الشرق الأقصى يتلقون الإسلام بشكل متزمت و يصبحوا متعصبين و عدوانيين وأحيانا يفقدون المشاعر الإنسانية تحت مسمى "التدين"....أخي سافر لأحد بلدان الشرق الأقصى و قابل بعض المسلمين ممن فعلاً يمنحون صورة مشوهه عن الإسلام بتزمتهم و تجهمهم و تعاملهم الفظ الوقح و القبيح مع الآخرين و حتى مع مسلمين مثلهم و يكملون الأمر عندما يتفاخرون بقولهم: نحن درسنا ب"المكان الفلاني" و رحنا للبلد الفلاني و نعرف الإسلام و هذا ما يعطي "المكان الفلاني" تلك السمعة السيئة في تخريج متعصبين مشوهين للإسلام دين السلام.
أخي أيضا أخبرني كيف الفرق الذي وجده في التعامل في ذاك البلد...غير المسلمين كانوا جدا مراعيين لهم و مهتمين و راقيين في التعامل...مثلاً: في وجود مسلمين كانت زجاجات الخمر تبعد عن الأنظار و حتى المأكولات كانت توضح إذا كانت فيها مشتقات الخنزير أو لا.
في حين كان بعض المسلمين سيئين جداً في التعامل وينعتون الآخرين و البلد حتى بأفظع الألقاب و كانوا من أسوأ الأمثلة التي ممكن أن تربط بالإسلام... مع أنهم وبشهادتهم وشهادة الجميع يتلقون الاهتمام و الرعاية من البلد والبلد نفسه يتكفل بتعليمهم و حتى ابتعاثهم لدراسة الدين الإسلامي في المعاهد والجامعات المشهورة.

عموماً لسنا نقول الكل ولكن البعض و هذا البعض هم أساس المشكلة...فهم الطبقة الظاهرة للآخرين و هم ما يزيدون الطين بله بأفعالهم و تصرفاتهم.

فقط تخيلوا معي أن تكونوا ببلد غريب عنكم...فيقابلكم فريقان...الأول بابتسامه جميلة لطيفة ودية ...والثاني يقابلكم بتكشيرة ونفور و تجهم... بديهياً إلى أي فريق ستميلون أكثر؟!!

عموماً كان فيلم وثائقي مؤثر جداً جداً...طبعاً كما العادة لم أقاوم البكاء...ولكن ألا نملك إلا البكاء لحالهم!! ماذا بعد أن شاهدنا و شهدنا؟!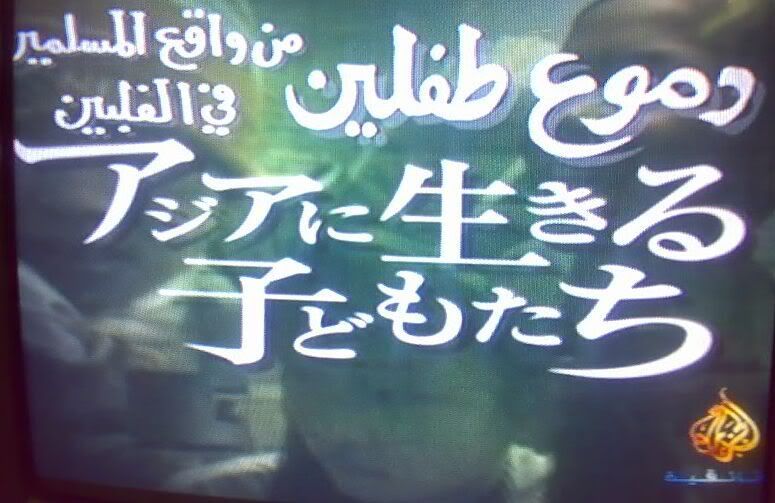 Tears of two children…the reality of Muslims in Philippines.

I think the best thing that Al Jazzera Channel done after launching the English Channel was launching Al Jazzera Documentary Channel!
I really loved this idea of this Channel ...only documentary programs and films. It's GREAT!
However, I don't spend that time in front of TV as I used to do. But…whenever I'm watching TV I check this channel. Also, some of my dear friends telling me about some specific programs that watched and want me to watch it as well because it's worthy.

One of these documentaries was about two little brother and sister from Philippines. They are Muslims and they moved from their island to other city to live with their aunt. The young boy called NoorAlDeen while his young sister called Marimar. Marimar goes to school every day there while her big brother NoorAlDeen attended same school when he arrived but later, he gave up his school to work and collect money for his family back there in the island. It's hard work for children…he wasn't the only one in that market…at least 70 child like him were there…most of them Muslims and came from same island. They are facing racism from people there because of the conflict in that island!

Their island called Mindanao…where Muslims are living…the case of this island that group of Christian people came to live in that island alongside with native people…so, it was okay and nothing wrong happened. But, then…some Christians started their aggression against Muslims. So, Muslims couldn't keep silent and they defended their lives and lands.
It was the self-defense …for God Sake!
Anyway, the sad part that some stupid and extremist Muslims who defaced the fair case of Muslims. They gave the aggressors a chance to use their wrongful image to tell the world that Muslims and Muslims of that island particularly are dangerous, extremists and hate others.
Abo Sayaf group defaced the image of Muslims and Islam by their excessive operations against other people.
That poor kids like NoorAlDeen and Marimar faced racism over this group works.
Poor NoorAlDeen!! He is going through lots of horrible times! He is working and not studying… he is even pay for his stay and his sister with their greedy aunt! What an aunt!!!! She took money for housing and for food!!! She is even force NoorAlDeen to bring water… he was totally fatigued and tired!
One day, he couldn't get up and that aunt tried to force him to get up, but he didn't move nor speak to her. He didn't tell her what happened with him!! Some Christian boys beat him so hard that he was still feeling pain all over his body….next day, in the market , he was working again under rain and said how that Christian boys beat him and wanted to take his money….but he didn't give them anything. "They didn't get the money...that's the important thing" he said with delighted smile!
There are some details like when they knew that their mother was sick and they have to jet back to their island. Well, only by a ship and they have to work more to pay for the tickets. No one helped them and they forced to work by their own to collect money.
NoorAlDeen was overwhelmed when they complete the money that they need for the tickets and he cried.

Then, no language can describe their reunion with their mother. NoorAlDeen cried and kept hugging his sick mother and they slept in her side. They are still children and still need their mother's love. Their happiness didn't last as they forced to go back to work in the same city. They cried and begged to stay with their mother…it was so horrible to see that! but they went back…

NoorAlDeen again in that Market selling plastic bags for the shoppers…..facing unknown future!

No need to mention how I was crying during the show. It was look like one of the reality TVs….it's more REAL…because it's REAL and happening to poor little children that have nothing to do in any conflicts that happen in their homeland.

*=*=*=*=*=*=*=*=*=*=*=*=*
Thank you to my dear Friend Ranooona for her recommendation to see this documentary. She was totally taken by this documentary and she made me love it even before see it by her description and words.
*=*=*=*=*=*=*=*=*=*=*=*=*
You can see all the pictures that I took in this
Link