My brother gave me these pictures for some "Celebrities" when they were kids. LOL…I really couldn't contain my laughs and my amazement about some…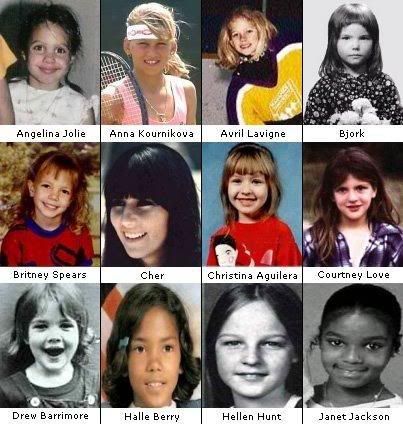 Baby girl Angelina Jolie made me laugh…she is so cute and funny too with messy hair and funny smile while baby Jennifer Aniston looked COOL like a big star…same thing goes with Meg Ryan…she is Awesome. Aww…what a pretty child was Sarah M Geller. Ah, Helen Hunt…you were such an angel girl!! Sarah J Parker kept her same face…she was cute and I don't know, but I think she is so pretty.

LOL @ Julia Roberts (funny baby Julia with missing teeth, but she was so adorable child…I loved her!!),
George Clooney (WOW…Cool boy…what a smile…nice hair…1976…damn…I wasn't born yet),
Tom Hanks (LOL…what a hair man?!),
Patrick Swayze (you are so recognizable man…so cute and neat too…),
Eminem (dude…there is something wrong with you…I wonder what?! Hahahahah),
Keanu Reeves (Damn…you were ugly!!),
Tom Cruise (Thanks God… you fixed your ugly teeth!!),
Nicole Kidman (not as I expected…L!!).

Most of them are so recognizable, but …Awww…Poor baby boy Jean Van Damme…looks bad and poor with those glasses at young age…no… very young age…. pathetic!!.............
Ricky Marin…you were cute child!! I don't know who Kurt Cobain is, but he was damn cute!
WOW…Cher…she is …different…so pretty!
Shania Twain is also look different than now.
Wahahahah…Tina Turner…I thought she is a boy!!!

How nice to see some famous people when they were kids. Laugh at them and love some even more. Now, as for me…I won't allow to publish my picture. I have funny picture with messy hair like sweetie Angie…LOL…something in common…and I have another picture…maybe cute as some people think…I don't know really!! LOL…don't say Publish it and we will judge…Never!!

Unless I become one of them…A BIG STAR :D